It seems you can't go more than a few days without hearing about the latest incident involving a drone, the catch-all term for remote-controlled miniature aircraft at the center of debates on technology's effect on privacy and public safety. Stories about accidents in football stadiums, during tennis matches and in backyards now routinely make front-page news, and have made what many still consider hobbyist toys fuel to a firestorm of public and political outcry.
Do drones have a place in the construction industry?
While the use of drones in the public and private sphere has come under scrutiny, the technology is finding a legitimate niche in a wide array of industries, from film to farming. Due to their small size, ease of use and broad versatility, drones are also proving useful in the realm of construction safety systems. This new frontier of technology has already shown promise as a safety tool in a relatively short amount of time, but ambiguous regulations and negative public perception may limit their potential. What should construction managers know to stay on the cutting edge of this emerging field?
"Remote-control aircrafts have been built and flown by hobbyists for decades."
The basics
The word "drone" has become associated with multiple connotations ever since coming into wider public consciousness. As the machines relate to construction, drones are simply small, remote-control aircraft, usually in the form of a "quadcopter," or a helicopter with four rotors. Remote-control aircraft have been built and flown by hobbyists for decades, but (Something is missing here) their popularity was limited by their prohibitive expense and need for wide open spaces. As technology improved, these aircraft have become smaller, smarter and cheaper. A quadcopter with a high degree of maneuverability, GPS capability and the option to mount a digital camera can be purchased by anyone with $500 to spare. Drone manufacturers continue to push the technology forward, inevitably moving toward even more advanced models within the reach of the average consumer, as well as highly advanced aircraft that can fly longer and accomplish more.
With their increasing usefulness and ubiquity, drones are finding roles in many industries, National Geographic noted. NASA and the National Oceanic and Atmospheric Administration are jointly developing drones that can be used to map the inside of hurricanes and tropical storms, gathering valuable data on their characteristics and behavior. Park rangers and geologists can use cameras mounted on drones to track wildlife and create detailed terrain maps. Even farmers are interested in using drones to conduct precision pest control and monitor crops.
New roles in construction
Construction professionals are discovering that a mixture of these roles - mapping large areas, tracking activity and reaching tough spots - would prove vital for accomplishing tasks with unprecedented safety and quality. Researchers at Georgia Tech's School of Building Construction are among many industry innovators at the forefront of study for this new technology. Professor Javier Irizarry studies the myriad uses of drones in the construction industry at Georgia Tech's ConnecTech construction lab, and with the help of his students, has been pioneering the use of drones for construction safety management, according to Equipment World. Irizarry has helped construction managers implement drones on work sites to oversee safety and gauge worker efficiency from all angles. Initially using drones to film shots of buildings for promotional purposes, Irizarry and others began to recognize the broad impact this technology could have on multiple aspects of the construction process.
"It's all about having a different perspective on the jobsite, and drones enable contractors to view places where they personally cannot go without costly equipment — including logistics, traffic, material delivery and storage, housekeeping on the jobsite," he said in an interview with EquipmentWorld.
Researchers at other engineering schools have begun to latch onto the idea as well, and put them to the test in the field. University of Illinois civil engineering professor Mani Golparvar-Fard and colleagues developed software for use with camera-mounted drones to track building progress over a wide area. The software is now being implemented in the construction of a new stadium for the Sacramento Kings, according to the Technology Review. With the use of automated drones, the software can track the progress of the stadium's individual sections and determine if any areas are falling behind schedule or contain structural errors.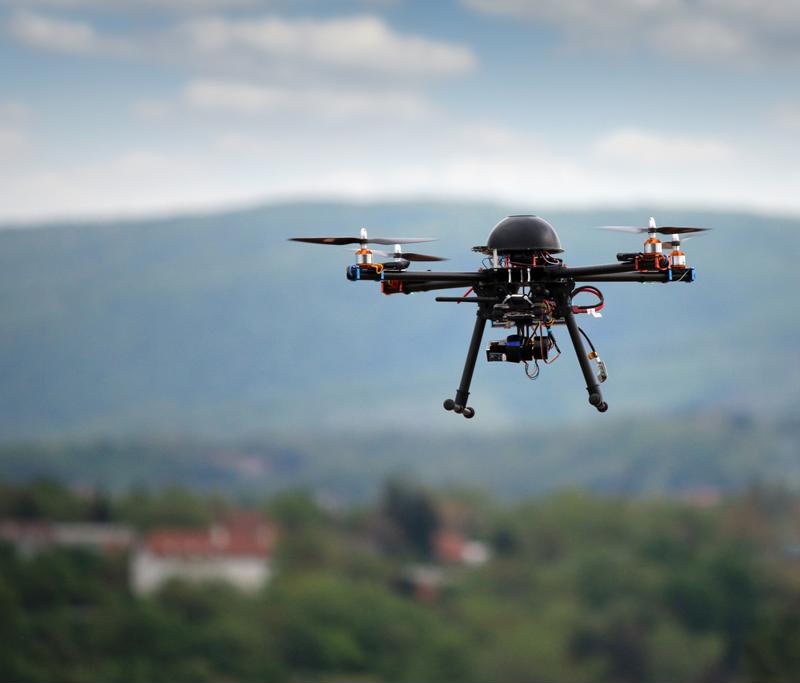 Rob MicKinney, a safety director at J.M. Wilkerson Construction in Marietta, GA, is among the increasing number of industry professionals who see promise in drones' ability to conduct operations in parts of a work site that would otherwise be costly - and dangerous - to reach.
"They could also be used to determine whether there are quality issues, such as leakage issues, in places where I can't easily go to, such as on top of roofs," McKinney said to Constructor magazine.
Much of a drone's usefulness in enhancing construction safety is their ability to not only monitor safety and progress, but to complete tasks that normally compromise the safety of workers. Drones also allow safety inspections to be conducted quickly and at lower cost, Construction Executive reported. As technology involving the imaging capabilities, as well as the general operation of drones continues, construction workers of all stripes will see real benefit from this emerging field.
New tech brings new risks
As with any new technology, drones remain relatively untested in a wide array of construction applications, and thus any added safety risks they carry are not fully known. At this point, statistics regarding drone safety are hard to come by, and in fact may not even be available with any reliability. Construction Executive identified two ways in which the use of drones on construction sites will likely come under scrutiny as they becomes more common.
"The word 'drone' partially stems from a negative, militarized connotation."
The first concern revolves around privacy and undue surveillance of work sites with the use of drones. The adoption of the word "drone" partially stems from a negative, militarized connotation that these vehicles can be used for spying and other nefarious activities. In a time when the clandestine surveillance of individuals by the government is at the forefront of public awareness, the idea that construction workers' activity will be tracked by drones does not inspire trust for many. In fact, a study by Pew Research Center and the Smithsonian Institute found that 63 percent of respondents did not think any good would come of aerial drones occupying public airspace at a large scale. The public at large may still need time to warm up to the idea, but construction industry professionals don't see much of an issue.
"It's not new to the construction industry that there would either be people standing and observing operations, or that there would be fixed cameras," Golparvar-Fard said, regarding his project at the Sacramento Kings stadium. "Yes, making this autonomous has a different feeling for the workers. But you have to keep in mind that it's not really questioning the efficiency of the workers, it's questioning what resources these guys need to be more efficient."
"UAVs have so many uses and have so much promise that they will be a widely used technology for the future," he said. "We want to minimize things that could ban the technology."
"A malfunction at a significant height could spell danger for exposed workers below."
The other primary concern for drone use going forward is their general safety. While most modern drones aren't of a considerable size, a malfunction at a significant height could spell danger for exposed workers below. And while most drones aren't able to fly very high or far away from their starting point, the Federal Aviation Administration has worked to create new regulations to curtail any abuse of this new technology. These regulations have come under scrutiny, however, with some considering them an unnecessary burden. Among the FAA's stipulations on drone use is a requirement to obtain a license with the agency for any operator of a drone being used for commercial purposes. Some, like professional drone operator Richard Evans, think this and other FAA requirements go too far and will discourage further innovation, Equipment World reported. While the FAA rules and enforcement of drone use are still evolving with the technology, Evans and others are confident that a reasonable consensus can be reached soon.
The rapid advance of all varieties of technology means constant change for the construction industry. Drones are just the latest innovation of construction safety products that offer builders flexibility and the promise of additional safety for everyone on the job.